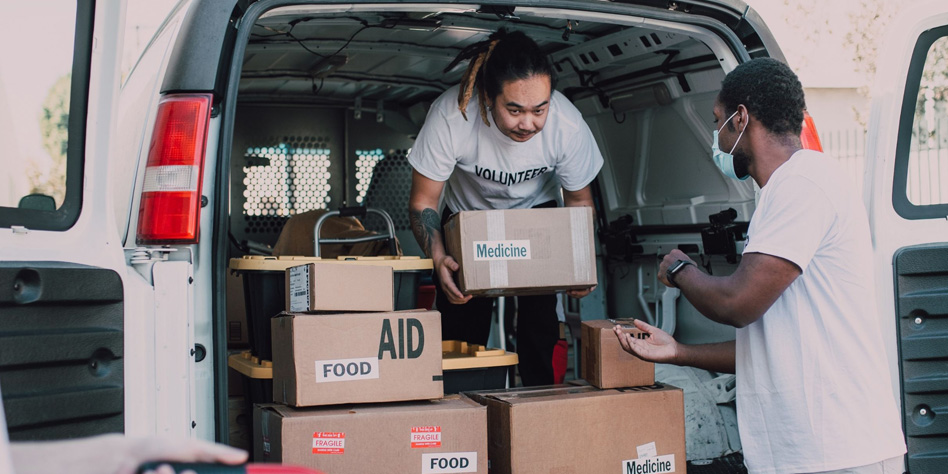 The first part of this article discussed how blockchain and cryptocurrency brought welcome changes in philanthropy. Part 1 also listed the different non-profit organizations that built their platforms on the blockchain and those that accepted crypto donations. This second part will show how cryptocurrency helps in global events.
COVID has undeniably changed how the world lives. In 2021, India went through a second wave of the pandemic that hit them much harshly than other countries. The massive COVID cases led to more deaths and a shortage of hospital beds, oxygen, and medications. Though the rest of the world had their own challenges in battling COVID, there was a global movement to help India. Donations came from citizens around the world. In relation to cryptocurrency, the most significant donation came from the co-founder of the Ethereum blockchain, Vitalik Buterin. He gave a gift of 50 trillion Shiba Inu coins worth an estimated $1.2 billion in May 2021 to the India-focused CryptoRelief. As of July 2021, $20 million has been distributed in India.
CryptoRelief has since returned $100 million worth of USDC to Vitalik. In a Twitter post, Sandeep Nailwal, founder of CryptoRelief says that they will be moving the amount to Vitalik, "a non-Indian, to do fast deployment in high risk/reward projects." Nailwal implied that the Indian government's skepticism has something to do with the decision to return the amount to Vitalik. Vitalik responded by saying, "I plan to personally deploy these funds with the help of science advisor to complement CryptoRelief's existing excellent work with some higher-risk higher-reward COVID science and relief projects worldwide.
Jack Dorsey, CEO of Twitter and Square sold an NFT of his first tweet ever for $2.9 million. He converted the amount to about 50 BTC and gave the proceeds to GiveDirectly, the non-profit organization that helps African people living in poverty. His gift is to be used specifically to the GiveDirectly's Africa COVID-19 response.
When GoFundMe froze funds from the Freedom Convoy 2022 page, some donors shifted to cryptocurrency as a means to send support. Almost $1 million worth of Bitcoin, Litecoin, Ether, Ethereum Classic, Cardano, and Monero was raised. When the Emergencies Act, however, was invoked, these crypto holdings were frozen. These remain frozen at the time of this writing through a Mareva injuction and pending a court's final decision on a lawsuit against the Freedom Convoy by Ottawa residents. The Royal Canadian Mounted Police were able to freeze crypto assets by compelling crypto exchanges to submit customers' private and financial details. It must be noted that it is highly improbable that Monero (XMR) donations were traced back to specific addresses because of Monero's use of privacy-centric technologies.
The Ukrainian government asked for crypto donations on its Twitter page as Russia invaded the country. It's a well-known fact that Ukraine has a much smaller defense budget than Russia and Ukraine badly needed help in funding their defense. As of March 6, 2022, cryptocurrency gifts to Ukrainian charitable organizations have amounted to more than $82 million and these will go to support victims of the war. The country's official wallets for Bitcoin, Ethereum, Polkadot, USDT, and Dogecoin has received about $50 million. Alex Bornyakov, Deputy Minister of Digital Transformation of Ukraine for IT Development announced that donations can also be made in Monero (XMR).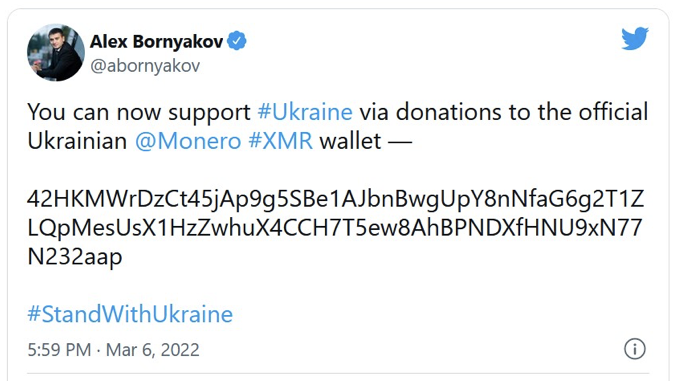 There are, of course, people who would disagree with some of the causes that certain non-profit organizations support. It is, however, very clear that these real-life use cases show the advantages of cryptocurrency in philanthropy. As with all adoptions of innovative ideas, there are still many challenges that the cryptocurrency industry is facing in relation to charitable giving.
Before donating XMR to a charitable or non-profit organization, make sure that you have a secure Monero wallet. Use XMRWallet, an open-source, free, and web-based Monero wallet that allows you to send and receive XMR instantly while remaining in complete control of your coins and keys. Sending Monero to these organizations using XMRWallet maintains the privacy and fungibility guaranteed by XMR.